A lot of these days are basking in the effectiveness and less time consumption of cooking with an air fryer. Even you must be in love with it now.
The air fryer is a godsend that allows for quick and easy dinners. And the best part about cooking with an air fryer, NO HASSLE.
Imagine using this air fryer to whip up something healthy. Something more beneficial to your health. Something KETO!
The ketogenic diet is a healthy trend that's attracting more and more people by the day. Now, if you get to create keto dishes with more efficiency and less usage of your precious time, that'll be the cherry on top of the keto cake.
Today, you'll learn about new keto recipes that work wonders in an air fryer. You save time and energy and cater to your health, all at the same time. It's the best of both worlds for you!
So, take off your apron for a while, get out of the kitchen, relax on your couch, and read through some drool-worthy keto recipes that you can prepare in an air fryer.
Let's get keto cooking!
Keto Air Fryer Zucchini Fries
Zucchini Fries are the low-carb alternative to regular fries. You may be feeling attacked right now, but trust me, they are worth a try for your taste buds.
These fries can easily compete with those greasy and full of fats fries and win the competition. There's no second-guessing that.
Ingredients
For this keto air fryer recipe, all you need are the following:
2 medium-sized zucchini
1 egg, beaten.
1 tsp Italian seasoning.
⅓ cup almond flour.
½ cup parmesan cheese, grated.
¼ tsp black pepper.
¼ tsp salt.
½ tsp garlic powder.
Olive oil.
Instructions to Prepare
Time to knife up. Cut the zucchini into fine ½ inch thick sticks.
Next up, combine the almond flour, grated parmesan cheese, Italian seasoning, black pepper, salt, and garlic powder. Thoroughly mix them and set aside.
In a separate dish, crack the egg and mix until beaten. Make sure to check for any eggshells first.
Dip the zucchini sticks in the egg and then coat them up with the almond flour breading. Line them on a plate for the air fryer.
Before placing the zucchini sticks in the air fryer, generously spray them with the olive oil cooking spray. It'll allow them a crispy outer side.
Place the zucchini fries in a flat layer inside your air fryer. Try to work in small batches to avoid overcooking.
Air fry them at 400F until golden and crisp. It'll probably take ten to fifteen minutes.
Transfer to a plate or a cardboard container if you want the feel of fast food. There you have it, air fried keto zucchini fries.
---
Keto Bacon Wrapped Brussel Sprouts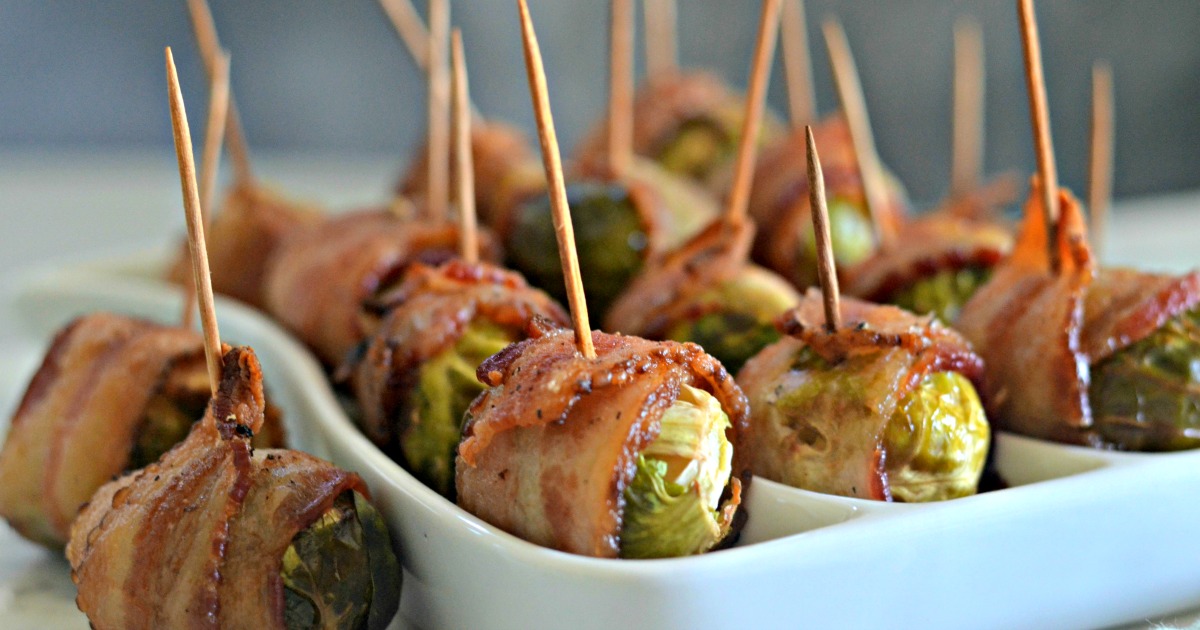 Name one person you know who likes eating Brussel sprouts. You don't have to think hard. There's probably no one.
Now, name one person who likes eating bacon? Probably a lot of names come to your mind.
Imagine Bacon Wrapped Brussel Sprouts. Everybody would love eating the greens with the meats, wouldn't they? Keto Bacon Wrapped Brussel Sprouts is a great recipe that you can conveniently make in an air fryer. The twist of healthy and meaty.
Ingredients
Here's all you need:
1-pound trimmed Brussel sprouts.
Olive Oil.
1-pound bacon sliced lengthwise in half.
Instructions to Prepare
For this keto recipe, you need to pre-heat the air fryer to 390 degrees.
Toss the Brussel sprouts, 2 tsp olive oil, salt, and pepper to taste. Mix the ingredients thoroughly until well incorporated with each other. You can even toss the ingredients if you want to practice your hand skills.
Now comes the hard work. Drape a piece of bacon around each Brussel sprout and slightly overlap it. As the bacon starts to cool, it'll shrink and will squeeze the Brussel sprouts if draped tightly.
Place the small bacon-wrapped hoops in the air fryer with the bacon end facing downwards.
Cook for about ten to fifteen minutes until they turn crisp and golden brown. Turn the sides once in between.
After they're well-cooked, take them out of the fryer and place on small skewers or wooden sticks. Enjoy your keto bacon wrapped Brussel sprouts with a healthy dip.
---
Keto Air Fryer Onion Rings
These onion rings are the perfect combination of light and crunchy. The recipe incorporates pork rinds to maintain the low-carb quotient while producing tasteful flavors.
Each keto onion ring contains only three carbs. So, it's a healthy and tasty option for you.
These onions rings are a favorite as a side dish, and the air fryer allows them to be ready within minutes. Talk about being prepared to attack the dinner table.
Ingredients
The recipe is super easy to follow and requires ingredients that are available in most homes. You won't have to go grocery shopping to prepare this keto recipe.
Here's all you need:
1 onion.
2 eggs.
3 tbsp almond flour.
¾ cup pork rinds, crushed.
2 tbsp parmesan cheese.
½ tsp paprika.
½ tsp garlic powder.
Instructions to Prepare
Preheat your air fryer to 400F for three to five minutes.
In a bowl, whisk the two eggs and add a tablespoon of water. Mix until combined, then set aside.
In another bowl, combine the almond flour, pork rinds, parmesan cheese, paprika, and garlic powder. You can even add cayenne pepper to taste. Set this aside for the time being.
Slice the onion without using any deep cuts and take out the individual rings. With assistance from a fork, dip each onion ring in the egg mixture followed by the pork rind mixture.
Coat the rings well so that the pork rind mixture sticks to them. Dip until the mixture is well incorporated into the rings. Then tap off the excess.
Before transferring the rings to the baking sheet, spray the racks with a cooking spray. Place the rings on the baking sheet away from one another.
Then spray the onion rings with cooking spray.
Place the baking rack in the air fryer and let the rings cook for about fifteen minutes. Flip the rings and then bake for another five minutes until crisp and golden brown.
Repeat the process if you're air frying the onion rings in small batches.
---
Keto Coconut Shrimp
The keto coconut shrimp is a flavorsome low carb treat for your taste buds. The recipe makes for a great keto appetizer. You can even serve it for dinner after a healthy salad.
The best quality of this keto recipe is that it requires no more than four ingredients. Less hassle and more fun cooking for you.
Ingredients
The list of ingredients for this recipe is not at all long. Here's what goes into the dish:
1-pound large shrimp, peeled and deveined.
2 eggs.
¼ cup coconut flour.
1 cup unsweetened shredded coconut.
Instructions to Prepare
Crack the two eggs in a bowl and mix thoroughly until frothy. Be sure to check for broken pieces of eggshells.
Pour the coconut flour into a separate dish. You can also add some seasoning to it if you like. Take the shrimp and dip it into the coconut flour.
For the next step, dip the flour-coated shrimp into the beaten eggs. Use a spoon or tongs to immerse the shrimp into the egg wash fully. Take out the shrimp and tap off the excess.
Dip the shrimp into the shredded coconut and use a spoon or your fingers to let the coconut slices stick to it. The entire shrimp should be covered in coconut.
If required, pick the shrimp pieces in your hands and firmly press until the coconut sticks to it.
Place the coated shrimp into the air fryer basket, preheated to 400F, and cook for six to ten minutes. Flip them halfway through the ten minutes. Keep an eye on them to avoid overcooking.
Plate them up and serve them hot with dipping sauce.
NOTE: You can also substitute coconut flour with almond flour.
---
Air Fryer Keto Crab Cakes
The keto crab cakes are a healthier and grain-free spin on the conventional ones. They're so easy to make and so authentic that you won't be able to resist eating them.
Preparing keto crab cakes at home is relatively easy, and it becomes easier if you own an air fryer. Using an air fryer for this recipe means less clean up afterward.
Ingredients
The building blocks to this keto recipe are quite similar to the traditional crab cakes. However, some crucial ingredients need to be keto-friendly.
Let's see what all you need:
Crab Cakes
8 oz lump crab meat, drained.
1 egg, beaten.
¼ cup almond flour.
2 tbsp parsley, chopped.
1 green onion, sliced.
½ tsp Old Bay Seasoning (any other seafood seasoning will do).
½ tsp salt.
½ tsp back pepper.
1 tbsp mayonnaise.
2 tsp Dijon mustard.
2 tbsp butter, melted.
Spicy Mayonnaise
¼ cup mayonnaise.
1 tsp sriracha.
Cajun season according to taste.
Instructions to Prepare
With assistance from a fork, break up the crab meat in a large bowl. Mix in the almond flour, parsley, Old Bay Seasoning, green onion, salt, and pepper until well incorporated.
Next up, add the eggs, mustard, and mayonnaise into the mixture until the ingredients absorb the moisture. It may take two to three minutes.
Once the mixture is well moistened, take a good enough amount in your hand from it to give shape to the patties. Each patty should be about 1 inch thick.
When you're done making the desired number of patties, place them on a plate line with wax paper. Then refrigerate for half an hour. It's so that the patties harden a bit before placing them in the air fryer.
Oil your air fryer rack. Brush the melted butter all around the patty and place them on the rack.
Set the temperature to 350F and air fry the patties for about ten minutes. Carefully flip them halfway through cooking.
For the spicy mayonnaise dip, mix all the ingredients in a small bowl until they form the desired taste. You can add another seasoning to it if you wish.
Place the crab cakes on a plate and sprinkle lemon zest onto them. You have made yourself healthier keto crab cakes that you can enjoy with a spicy mayo dip.
---
Keto Pork Chops
The recipe is a highlight of the low-carb meals. It's easy, hassle-free, and super healthy. An added benefit is that it only requires four ingredients.
Keto dinner recipes are something to ponder over. You can conveniently make this fuss-free recipe in twenty-five minutes and enjoy some healthy dinner time.
Ingredients
The best attribute of this keto recipe is that it doesn't require a long list of ingredients. You can whip up this dish with the basic ingredients you have in your kitchen.
All you need is:
4 medium-sized boneless pork chops.
6 tbsp butter, divided.
Salt and pepper to taste.
3 tbsp sage, chopped.
Instructions to Prepare
Dry the pork chops by patting them with your hands. Then melt one tablespoon of butter and brush it on all sides of the pork chop. Sprinkle a bit of salt and pepper according to your taste.
Place the seasoned pork chops on a well-oiled air fryer rack and air fry them at 400F for ten minutes. Make sure to flip them halfway through cooking and then cook for ten more minutes.
Use an instant-read thermometer to check the temperature of the chops. Once it reaches 140F, remove the plate from the air fryer and cover the chops with foil.
Heat the remaining butter in a saucepan over medium heat. Allow it to melt and continue cooking until the butter becomes a golden-brown color. It should take 2 to four minutes. Keep an eye on the butter to avoid burning.
Remove the saucepan from the heat and add chopped sage to it.
Your keto pork chops with sage-topped brown butter are ready. Let the butter cool for a bit, and then dig in.
---
Keto Air Fryer Chicken Tenders
The keto chicken tenders are a partnership of crispy and deliciousness. These low-carb chicken tenders are easy to make and are a healthier alternative to the oil-filled ones.
They are free from gluten and are loved by children and adults alike. You can easily prepare them for a picnic or as a side dish for dinner.
Ingredients
The recipe requires basic kitchen-cupboard ingredients. You don't even need to make a list for the grocery store. Everything will probably be available at home.
Here's what all you require:
1-pound chicken breast tenders (boneless and skinless).
1 egg.
1 and a half tbsp heavy cream.
½ cup almond flour, blanched.
½ cup parmesan cheese, finely grated into powder form.
½ tsp salt.
½ tsp paprika.
¼ tsp garlic powder.
¼ tsp black pepper.
Olive oil, spray.
Instructions to Prepare
Preheat your air fryer to 400F.
In a bowl, mix the blanched almond flour, parmesan cheese, and the seasonings until well incorporated. Set the bowl aside.
In another bowl, crack the egg and check for broken pieces of eggshells before adding in 1 and a half tablespoon of wavy cream. Mix the two ingredients.
Take one chicken tender and dip it in the egg wash. Then rub it in the almond flour breading until all the sides are fully covered. Repeat for all the tenders.
Place the coated tenders on the air fryer sheet and place it in the air fryer—brush olive oil over the chicken tenders.
Air fry the chicken tenders at 400F for six to eight minutes. Flip them over and then cook for another eight minutes until they turn crispy and golden.
Carefully remove them from the fryer and place on a platter. Enjoy home-cooked keto chicken tenders with the feel of fast-food.
---
Something More
All recipes in this article are keto-based and air fryer friendly. Gone are the days when high-carb foods were something to crave for. There's a newer, healthier option in town.
These recipes are easy to follow and save you a trip to the supermarket. Moreover, they even save you a penny or two.
Surprise your date with a home-cooked keto dinner or treat your kids to keto fries, all done in an air fryer. It's possible, and it's no fuss!
If you want to prepare some air fryer-friendly keto recipes, stay up to date on the latest kitchen trends, and find healthier alternatives to greasy food, check out this eBook called, "Keto Air Fryer: 100+ Delicious Low-Carb Recipes to Heal Your Body & Help You Lose Weight".
You'll find more than a hundred keto recipes that you can prepare for breakfast, dinner, or lunch. And all with assistance from an air fryer.
So, get smart and get reading.
Conclusion
I'm sure that by now, those of you who weren't religiously following the keto diet will have had a transformation. With access to new and delicious recipes and time-saving kitchen equipment, who needs to order unhealthy stuff from restaurants.
Everything is housed in your kitchens! No-fuss, no hassle, and no extra cleaning afterward. Everything is easy with the air fryer.
Take charge of your keto diet and collect tasteful recipes from all over that you can create in an air fryer and surprise even yourself. Going keto doesn't necessarily mean giving up on your favorite fries.
Be imaginative and let the zucchini juices satiate your taste buds. You'll forget all about those unhealthy choices.
Air fryers are slowly taking charge of the kitchens and peoples' food choices and helping them stay on track.
After all, your keto diet has found a partner in your air fryer.