Being on the Keto Diet, it can sometimes feel like I've had to give up on a lot of the yummy food that I once used to greatly enjoy. For example, I've always been a sucker for peanut butter. It's always been one of my favorites.
I believed when I first began this diet that I would never eat peanut butter again. You couldn't begin to imagine how happy I was when I discovered peanut butter that was keto-friendly!
The secret to keto-friendly peanut butter and any other similar snacks are the ingredients that go into it. I was careful to check the ingredients when testing my peanut butter for my diet, and I urge you to do the same.
I wanted to share some of my favorites with everyone, so here it goes. Here is my list of the best keto peanut butter.
Best Keto Peanut Butter
Now, unfortunately, because we do have to watch what we eat on the keto diet, we can't just base everything on flavor alone. It has to be based on the carbs that go into it.
Recreating what makes peanut butter taste so good in a way that it lacks carbs can be a bit difficult, but it's not impossible. But the amount of carbs in the serving sizes matters… a lot.
So, I can promise you, this list is kept in mind with not just flavor but the number of carbs that go into it.
Justin's Classic Peanut Butter
Carbs per serving: 6g carbs; 5g net carbs
Justin's Classic Peanut Butter is first up on the list because it is one of the more popular (and cheaper) brands of keto-friendly peanut butter. It's only made with two ingredients, none of which contain added sugar and other things to go against keto.
But don't let that fool you into thinking that Justin's isn't flavorful. The man who came up with this brand did a really fantastic job, and this peanut butter tastes fantastic.
However, there are a lot of additional flavors available to purchase, but those are not keto-friendly as they have added sugars and sweeteners. Stick with the classic to stick with your diet.
---
365 Everyday Organic Creamy or Crunchy Peanut Butter
Carbs per serving: 7g carbs; 4g net carbs
Another cheaper priced peanut butter on our list is 365 Everyday Organic Peanut Butter. This peanut butter comes in either creamy or crunchy, making it perfect for those that enjoy having a little crunch to their peanut butter.
It's organic and non-GMO, which is always a plus for those of us looking to watch our weight. I mean, that's why we're on keto, to begin with.
That being said, because it is organic and made with only peanuts in mind, it can separate and needs to be kept in the fridge when not being used. The good news is that it's not too hard to mix back together.
---
Crazy Richard's All-Natural Creamy Peanut Butter
Carbs per serving: 7g carbs; 4g net carbs
Similar to the 365 Everyday, Crazy Richard's All-Natural Creamy Peanut Butter is made with only one ingredient: peanuts. It's a bit harder to mix up and get a good consistency, but I tell you that it's worth it.
Crazy Richard's is one of the best real peanut butter out there. It just takes a little bit more work to get to it. Some even recommend letting it refrigerate for a day or two, and then it's much easier to get the desired consistency.
This peanut butter comes with no palm oil, no added sugar, and no added salt. It's incredibly keto-friendly and tastes fantastic.
---
Spread the Love Organic Peanut Butter
Carbs per serving: 6g carbs; 4g net carbs
Keeping up with the sole ingredient being peanuts, next up is Spread the Love Organic Peanut Butter. This peanut butter is a little bit on the pricey side, but being family owned and operated means you are supporting a small business.
It's also organic and non-GMO without any additional sugars, salts, or oils. The taste is also fantastic and worth the price if you want to pay for it.
You can expect it to come separated, but it's not overly difficult to mix back together. Mix it and get to munching.
---
Smucker's Natural Creamy Peanut Butter
Carbs per serving: 6g carbs; 4g net carbs
Made with peanuts and just a dash of salt, Smucker's Natural Creamy Peanut Butter comes up next on my list. I know what you're thinking: a national brand that's keto-friendly?
It seems a little too good to be true, but I assure you, it's true! With only 4g of net carbs per serving, it's as low as low to go in our keto peanut butter list.
As for the taste, it tastes super good. It comes in a glass jar, and I personally believe the glass packaging makes the flavor better than if in plastic.
---
Teddie All-Natural Smooth Peanut Butter
Carbs per serving: 7g carbs, 4g net carbs
Teddie All-Natural Smooth Peanut Butter is a pricier option, but like a lot of things in life, the higher price is for, the better product. I think the price is worth it for quite a few different reasons.
Not only does this brand of peanut butter taste fantastic without any added preservatives or sugar and is non-GMO, but it does not have to be refrigerated! You can still refrigerate it if you want to slow the oil separation, but it's not necessary with this peanut butter.
It's easier than other solely peanut-made peanut butter to stir, and that's what I really love about it. Depending on what option you choose to buy it from, you can get this brand in a glass jar as well!
---
Trader Joe's Creamy Unsalted Peanut Butter
Carbs per serving: 7g carbs; 4g net carbs
If you're fortunate enough to live near a Trader Joe's, then you're more than likely acquainted with it and all of its keto-friendly foods. Their brand of peanut butter is no different in this aspect.
The only ingredient is, you guessed it, peanuts! No salts, sugars, or preservatives were harmed in the making of this peanut butter, just like there's no harm in your diet when you snack away on it.
Keep it refrigerated and stir it up before every use, and that's all there is to it. I promise you; this peanut butter is rather tasty.
---
Healthy Keto Peanut Butter Snack Ideas
Now that we have our list, we come to one fact of peanut butter loving life: peanut butter is okay by itself, but when it comes to snacking, it needs a friend. I know that before I started keto, I loved peanut butter spread out on some Ritz crackers.
That's not really something we can have when on this diet, so it's time to improvise. So, here's a list of some good, healthy keto-friendly snacking ideas now that we have our keto peanut butter.
Peanut Butter Fat Bombs
It is a famous keto treat, and the main ingredient is, obviously, peanut butter. They are super easy and quick to make, and they are super delicious.
If you're not quite familiar with peanut butter fat bombs, they are basically a ball of peanut butter, butter, and a sweetener of your choice. All you do is roll them up, and if you want to harden them up, place them into the fridge for a few hours.
They are full of the very same fats and proteins that are important to keep up with during a keto diet and contain very little carbs as long as you make them correctly. If you've got a peanut butter craving, this is sure to be the snack to help you get rid of it.
---
Keto Peanut Butter Mug Cake
Ok, I know what you're thinking. How can anything that sounds as delicious as a peanut butter mug cake be keto-friendly?
It's simple: keto-friendly peanut butter! It's all about the ingredients that you are using, after all.
Like the fat bombs, this is simple to make, and you can whip it up in a matter of minutes. A fast, tasty snack that will crack away that peanut butter craving in no time.
---
Low Carb Peanut Butter Cookies
This is one that gets to me every time, and I'm sure it's one that will get a lot of your taste buds going as well. Who can turn down peanut butter cookies?
Made with the right ingredients and sweeteners, you can make low carb peanut butter cookies that taste just as good as regular cookies—all without the need for flour.
To make some delicious peanut butter cookies that are friendly for your diet, all you need is your chosen peanut butter, some sweetener, eggs, and any other spices you want like cinnamon. That's literally it. Easy and quick to make, just like the fat bombs and mug cake.
---
Keto Peanut Butter Almond Bites
These are a delicious little treat that works well for an afternoon snack or after-dinner dessert. These simple snacks are made in muffin cups and then placed in the freezer until it's time to snack.
If you're craving a delicious, keto-friendly sweet treat that has peanut butter, almonds, and chocolate, this is what I recommend you make. Just make sure that you make them a couple of hours ahead of time, so they're ready when you want them.
---
Keto Peanut Butter Fudge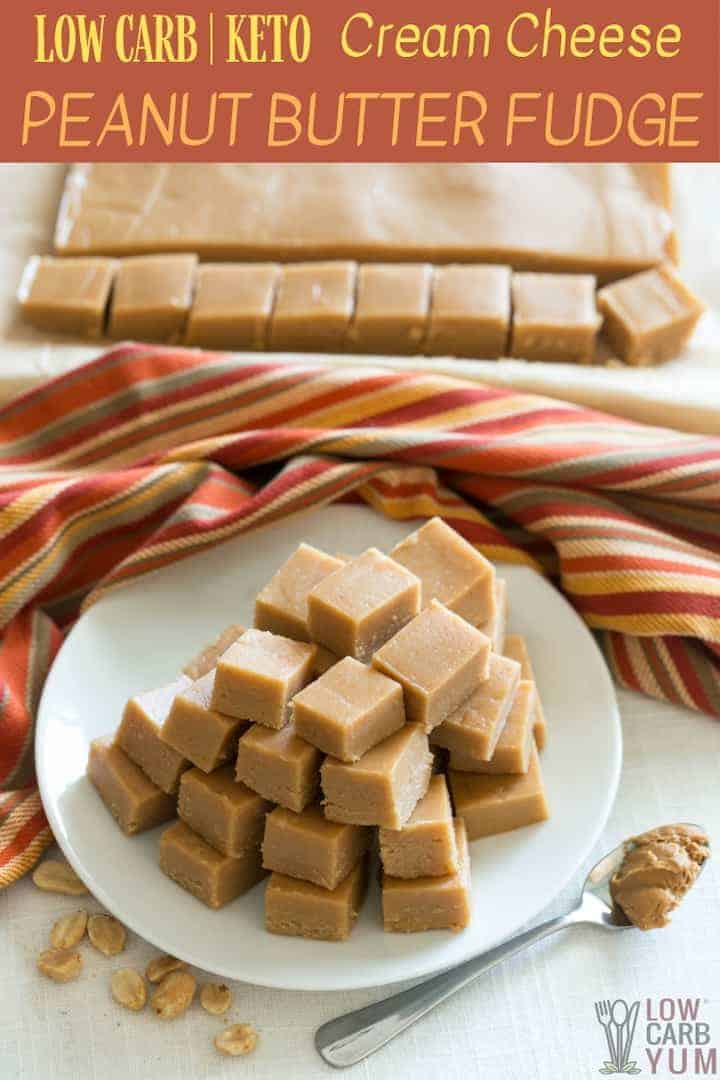 If you're not in a rush for your peanut butter snack and you want something that will make your taste buds tingle in delight, then there's great news in store for you. There are recipes readily available to make peanut butter fudge that is absolutely keto-friendly.
Unlike the rest of the snacking ideas on here, this one takes a little more effort. But trust me when I say, it is most certainly worth it. After all, who doesn't like fudge?
---
Keto Peanut Butter Mousse
I am about to blow your taste buds away with this one. That's right; you read that correctly: keto peanut butter mousse.
This is less of a snack and more of a dessert, but hey, I'm not one to judge if you grab one of these babies for an afternoon snack. I certainly have in the past.
It only takes 5 minutes to make, and it's well worth it. It is definitely one of my favorites on this list.
---
Health Benefits of Keto-Friendly Peanut Butter
We are in this keto diet together, and the reason we are doing it is to help better our lives, our weight, and our health. So, of course, you want to know that eating peanut butter is healthy, right?
Of course, it is! Peanuts and nuts, in general, have always been seen as a healthy snacking food, so if peanut butter is made correctly, then it's good for you.
But what are the health benefits exactly of eating keto-friendly peanut butter rather than say, spreads that pose as peanut butter? Let's take a look.
No Sugars And Preservatives
It is pretty important on a number of levels. Too much sugar is bad for anybody, not just those of use on the keto diet.
Keto-friendly peanut butter is keto-friendly because they lack a lot of those ingredients found in what's becoming known as peanut "spreads" like Jif. With ingredients being slimmed down to just the bare minimum of peanuts and maybe a palm oil, you are getting the best out of it.
Peanut butter isn't necessarily seen as good for you, but it certainly isn't unhealthy when it lacks all the extra stuff. Just keep in mind when on the keto diet, you still need to be careful with how much of it you eat.
High In Protein And Fat
Bouncing back to keto-specific, peanut butter has a lot of proteins and fats because that's all that peanuts are. This is exactly what you need when you're on this diet, as you are well aware.
I know I've been saying it, but having the right keto peanut butter is a smart choice for the keto diet, and your taste buds will certainly thank you for it. Don't cut this delicious food out of your diet just because you think you have to.
Peanut butter is an excellent addition to keto. Just be smart when using it.
Mmm, Vitamins
Here's another health benefit that doesn't just count for us keto followers, but for everyone to take note of. Peanut butter is loaded with vitamins that are good for the human body.
Vitamin E, magnesium, niacin, and other minerals and vitamins that are required for us to eat daily. So you're not just getting a delicious snack, but you're getting a good dose of some of your vital vitamins.
Reduce Inflammation
Peanuts contain fatty acids, one of which is oleic acid. It is the same fatty acid that is found in olive oil and is a massive part of the reason why olive oil is so much better for you than vegetable oil.
This acid has a lot of benefits to human health, and one of those benefits is its ability to reduce inflammation in the body. That's right; oleic acid is a natural anti-inflammatory.
Reduce High Blood Pressure
Another benefit thanks to our friend, oleic acid, is that peanut butter can actually help to reduce high blood pressure. It seems like a pretty big deal because, well, it is.
If you're doing keto because of the fact you have high blood pressure, don't cut peanut butter out of your diet! Choose it right to keep the other ingredients out, and it'll do you more good than you realize.
It Actually Helps With Weight Loss
This one is tossed around a lot on how true it is, but studies have been done, and it shows: peanuts and peanut butter can actually help you lose weight. But if there's so much arguing about the fact that peanut butter may not be good for you, how can that be?
The reason why peanut butter can be a tool to help you lose weight is the fact that it's loaded with proteins and fats, as we've already mentioned. By eating peanut butter, you feel full sooner.
This means that in the end, you wind up eating less! Just make sure that you don't overdo it, though.
Keto-Friendly Alternatives to Peanut Butter
As much as I love peanut butter, I'm not so naïve as to realize that not everyone can eat it. After all, there are a lot of people that happen to be allergic to peanuts.
That doesn't mean that you can't also enjoy a healthy, keto-friendly snack that's similar to our beloved peanut butter. Here are some of my favorite keto-friendly peanut butter alternatives.
Almond Butter
Average carbs: 3g net carbs
Almond butter is delicious and healthy for you, but it comes with a higher price than most peanut butter. If you don't mind paying a little extra, then it's definitely worth it.
If you're on keto, you're familiar with almonds anyway. Almonds are everywhere in our favorite keto recipes, from milk to flour. This isn't any different.
Coconut Butter
Average carbs: 4g net carbs
Though it's not as good a source of protein as peanut butter, it has more fats in it that's great for the keto diet. Coconut butter is a fantastic alternative for those who love coconut for obvious reasons.
It's harder to find, and the price is a bit higher, but it can certainly be worth it. It's also easy to make yourself; all you need is some coconut meat and a food processor.
Sunflower Seed Butter
Average carbs: 5g net carbs
This one may seem a little bit out there but hear me out: unsalted sunflower seeds really don't taste much different than peanuts. So, if you're looking for an alternative that tastes like peanut butter, sunflower seed butter maybe your best option.
The biggest problem you face with this is that they're a bit higher in carbs than peanuts. So, if you decide to go with this option, definitely make sure you watch how much of it you eat, so it doesn't affect your ketosis.
Soy Butter
Average carbs: 2g net carbs
If you're looking to avoid all nuts and seeds with no care about the flavor taking a hit, then try out soy butter. It's rather bland when it comes to the flavor, but it's superior in nutritional value for keto.
This butter alternative comes with the same amount of fats and proteins that you would get with peanut butter. The best part about soy butter is that it comes with way fewer carbs than any of the others.
Keto Nut Butter
Average carbs: 6g net carbs
If you're not familiar with Perfect Keto and its products, let me give you a quick introduction to their keto nut butter. They taste fantastic, low carb, and come in 4 amazing flavors.
It is perfect if you're wanting that wholesome flavor while sticking to your diet. These butter are made with a variety of nuts and are jam-packed with all the right fats for your keto diet.
The best part about this nut butter? It comes in a resealable pouch so you can take it anywhere! You can also check out Perfect Keto to see all their other great snacking options as well.
---
Conclusion
Doing the keto diet is one of the best ideas I ever made to improve my self-confidence, weight, and overall health. It took me a while to get into it, but once I realized I could keep some of my favorite foods like peanut butter, it got so much easier for me.
Don't be a fool and think that you have to cut out this delicious snack because it doesn't fit into your diet. As I've mentioned, it's literally all about the ingredients that go into it.
Be careful what you shop for, make sure there's no added sugars or preservatives, and go for the organic. Those are the best, keto-friendly peanut butter.
Grab a butter, a snack, and enjoy… while staying happily keto!