Out of all the diets that I have tried throughout my life to help me to lose weight, keto is the only one that seems to really work for me. Not to mention that I find a lot of the food to be fantastic.
The one thing about keto, though, is it seems like it can be hard to find a recipe that meets all the requirements for keto's nutrition intake. After all, keto requires eating a lot of high-fat foods.
So, in order to help others with delicious high-fat meals that keto needs, I've compiled this list of high fat keto recipes. Each one guaranteed to be delicious and high in fat.
Top 8 High Fat Keto Recipes
I've gone through and chosen 8 different recipes of my own personal favorites to suggest to you. They come from random recipes I've found on google and from recipes that I've gotten out of my favorite keto recipe cookbooks.
You see, Google is great for when you're trying to find something specific, but when it comes to wanting to browse for specific categories of recipes, it can be rather exhausting. That's why cookbooks come in handy for me.
Recipes are important for us keto lovers, especially if you're looking for a variety of food instead of just having the same thing over and over again.
A perfect example is this book here that is full of 5-ingredient keto recipes for those that don't have a lot of time to spend so much time cooking. Oh, and then there's this one that is full of southern favorites that are all entirely keto-friendly.
It's amazing the kinds of things you can do while on keto to keep up with your non-keto favorites, and some of them you even end up liking more than you do the original!
---
Well, without further ado, here it is. The top 8 high fat keto recipes!
#1 Cauliflower Crusted Grilled Cheese Sandwiches
Net Carbs: 10g  Total Fat: 19g
As a huge lover of grilled cheese sandwiches, I cannot get enough of these. The name of the recipe is pretty self-explanatory on what you can expect here.
The "bread" is made with cauliflower crumbs, and it truly does complement the white cheddar cheese wonderfully. It's a perfect addition to any meal or even just to have for a snack.
It takes some time to make this recipe, but it's definitely worth it. If you're a fan of grilled cheese, I can promise you that you're going to love this one.
The only bad thing about this recipe is the 10g of net carbs that you're facing with it. But, if you're dying for good grilled cheese, indulge and just watch your carbs for the rest of the day!
#2 Chicken Pad Thai
Net Carbs: 8g  Total Fat: 34g
Now, I don't know about you, but I love Chinese cuisine. I can go to a Chinese buffet and feel like I eat more than half my weight easily.
Thankfully, keto-friendly Chinese isn't too hard to make, and this chicken pad thai recipe is a perfect example of that. The key is that if you make the sauce yourself, then you're not going to end up with the carbs and sugar you get when using the store-bought stuff.
As for the noodles, you just grab yourself a zucchini and make some delicious zoodles! It seems like a lot of work, but trust me, it's totally worth it.
It's low carb, especially considering the amount of stuff that's in it, and the high fat count makes this a fantastic keto recipe. Not to mention the fact that it is truly delectable.
#3 Fat Head Nachos
Net Carbs: 5.1g  Total Fat: 32.6g
Wait a second; I certainly did not just mention nachos in a keto-friendly list, did I? Oh yes, I certainly did!
These nachos are definitely a keto must because let's face it, who doesn't like nachos? So, the must-know question is: how!?
The tortilla chips are made with cheese, cream cheese, almond flour, and spice. Simple as that!
Top it off with your favorite keto-approved nacho toppings and chow down. Revel in the delicious taste of nachos once again, knowing that you aren't breaking your keto rules and having a high-fat meal in the process.
#4 Paleo Beef with Broccoli
Net Carbs: 3g  Total Fat: 17g
I know I already included one Chinese dish on the menu, but I can't help but include another. These particular dishes are just perfect for keto, after all.
Just like with the pad thai chicken, the way to make paleo beef keto-friendly is to make the marinade yourself. It's a little bit more work, but this is your taste buds we are talking about.
This recipe has a careful selection of what to put in your cooking to ensure you are using the least amount of carbs possible. I don't know about you, but I think 3g of net carbs for an entire meal is incredible and very welcome.
These incredibly low-carb, high-fat meals are my favorites to make, especially when they taste this good. The only thing to keep in mind is that this recipe requires a wok, so I hope you already have one in your cupboard because this recipe rocks.
#5 Easy Crockpot Chicken Stew
Net Carbs: 6g  Total Fat: 26.1g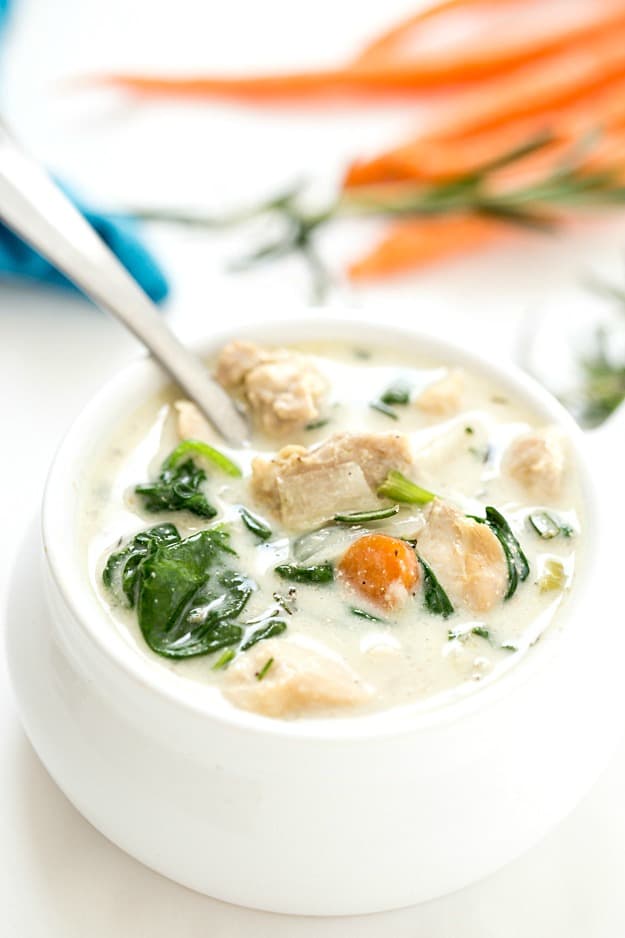 This is a great one to just toss in the crockpot before you need to go to work in the morning. Or if you have a lot to do and just don't have the time to stop everything later in the day to cook up a big meal.
All you have to do is throw almost all of the ingredients into the crockpot and let it cook for two hours. Once the time is up, add in the heavy cream and spinach to help thicken up that sauce along with the xantham gum to really thicken it up.
Once you get that desired thickness, cook it for 10 more minutes, and voila. Chicken stew that a keto follower is bound to love.
I don't know about you, but I happen to love crockpot recipes. This is especially for this diet that requires so much cooking in the kitchen; sometimes, you just need a day off!
#6 Reuben Skillet
Net Carbs: 3g  Total Fat: 92g
Were you a lover of Reuben sandwiches before taking on the keto vow and swearing off bread for the entirety of your diet? Well, friend, do I have great news for you!
This Reuben skillet recipe is calling your name, and you won't be disappointed by what it has to offer you. It's even pretty easy to make as well as super high in fat (92g!).
Basically, this skillet is a Reuben sandwich, but without the bread that destroys your carb intake. You can enjoy the splendors of this wonderful sandwich in the skillet form.
And hey, if you're not a fan of what the recipe calls for in terms of meat or cheese, switch it up to make the perfect combination. Just be prepared to add this recipe to your weekly meal plans.
#7 Guiltless Garlic Parmesan Wings
Net Carbs: 6g  Total Fat: 21g
If you're a fan of wings coated in breaded goodness that you used to dip in various hot sauces or ranch dressings, let me entice you with this particular recipe. I promise you that you won't be breaking any rules, and your taste buds are going to love it.
The "breading" is made with, you guessed it, grated parmesan cheese. It's also complemented with pecorino romano cheese and some spices.
This breading makes the wings incredibly delicious, especially if you love cheese in the same way that I do. Make yourself some delicious parmesan-coated wings, and then enjoy dipping them in your favorite low-carb dipping sauce.
This recipe is just another perfect example of the amazing things you can do to substitute your favorites while on the keto diet. I just couldn't live without wings, and this recipe was a real lifesaver.
#8 Chicken Enchilada Bowl
Net Carbs: 6.1g  Total Fat: 40.21g
Last on my list, but certainly not least, is the chicken enchilada bowl. I loved Mexican food just as much as I did Chinese food, so when I started keto, I began looking into ways that I could still have a good Mexican dish from time to time.
I was pleasantly surprised to learn that a lot of these dishes are perfectly keto-friendly when you eat them in bowl form! This made me incredibly happy, and this just so happens to be one of my favorites.
All you do is make an enchilada without the tortilla and put it into a bowl. Top it off with your favorite keto-friendly toppings and dive in.
Prefer beef to chicken? Then hey, feel free to swap it out. Want some rice to go with it? Cauliflower rice is actually a perfect accent to this dish!
Conclusion
Well, there you have it! That's what I consider to be the best high fat keto recipes in both taste and fat percentage to help you with your keto dieting.
I hope that you enjoy these recipes just as much as I do and that they'll be frequently used in your kitchen. I promise you that you won't be disappointed either in food content and flavor.
If you're ever having a bit of trouble trying to find what to make for snacks, lunch, or dinner, then try one of these out. If you've tried them all and you're still looking for something new, try out a cookbook!
---
Keto can be a lot of work at times, but when it comes to losing weight and keeping it off, it's one of the best diets out there. Not only that, but it's also healthy! Keep it up; you're doing great!