As the keto diet gains popularity, more keto-friendly products, and supplements are being introduced into the market. While this is a good thing for you, if you're on a keto diet, it can also be challenging to decide on a particular brand.
Variety is good since it gives you a lot of options and ensures that you're not forced to make do with ineffective or low-quality products. What matters is choosing the right product for you.
In this review, we'll be looking at two popular brands for keto-friendly products, Keto OS and Perfect Keto. Read on to find out what each offers and how they can help you maintain your ketogenic diet.
Keto OS
Keto OS is an exogenous ketone supplement product from Pruvit. Pruvit is a brand of keto-friendly supplements that was founded in 2015.
It's one of the pioneering keto product manufacturers, which is why it's one of the most recognized in the market. The brand utilizes ingredients that have been proven to be beneficial to the ketogenic lifestyle.
Keto OS NAT® was their initial supplement, after which they introduced other keto products. Like other Pruvit products, this supplement contains mineral salts such as magnesium, sodium, and calcium to bind beta-hydroxybutyrate ketone bodies.
It contains 910mg of sodium, a much higher concentration than that of calcium and magnesium. This is because sodium is absorbed into the body at a faster rate. With such a mineral salts balance, it ensures that you get rapid results that are long-lasting.
You can get charged Keto OS, which contains caffeine, or a non-caffeinated option. This allows you to choose the supplement that works better for you at different times of the day.
The charged version is great for workouts, while the non-caffeinated option is great to use during evening hours so that your sleep cycle is not interrupted. If you're sensitive to caffeine, it's also better to stick to the non-caffeinated one.
You can get this ketone supplement in lime, Swiss cacao, Maui punch, and raspberry lemonade flavors.
Keto OS contains a proprietary blend from Pruvit known as NAT® (Naturally Advanced Technology®) that supports immune function, enables DNA repair, and improves cellular health.
Pros
It's available in a variety of flavors, making it easier for you to choose one that suits your preferences. The flavors also make the ketones easier to ingest, compared to others in the market that have the natural bitter taste of the salts.
Keto OS can improve your energy levels by increasing the levels of ketone bodies in the body. This puts your body into a ketosis state, whereby it uses up the ketones for energy. Since it contains a lot of sodium, Keto OS is able to provide rapid improvement in energy.
By providing you with enough fuel in the body in the form of ketones, Keto OS helps curb your hunger cravings. This makes it easier for you to stick to your low carb keto diet.
Keto OS contains proprietary blends from Pruvit that enhance cell function, boost the immune system, and aid in DNA repair.
It helps you stick to your keto diet and maintains your ketosis state. With your body in this metabolic state, it's able to burn more fat since it's used as the main energy source.
Keto OS boosts focus and mental clarity, helping you become more productive at work.
Cons
Contains sugar alcohols and fillers, which means that it's not a completely clean keto product. Sugar alcohols are a source of carbs and can also raise your blood sugar levels, which can affect your ketosis.
Keto OS is more expensive compared to other reputable exogenous ketones in the market.
Many customers report displeasure with the flavor of these ketones.
---
Besides Keto OS NAT®, Pruvit also offers Keto OS® PRO™.
KETO OS PRO
If you're interested in muscle building, you'll want to give this Keto OS product a try. It's infused with proteins that aid in muscle growth and recovery after exercise.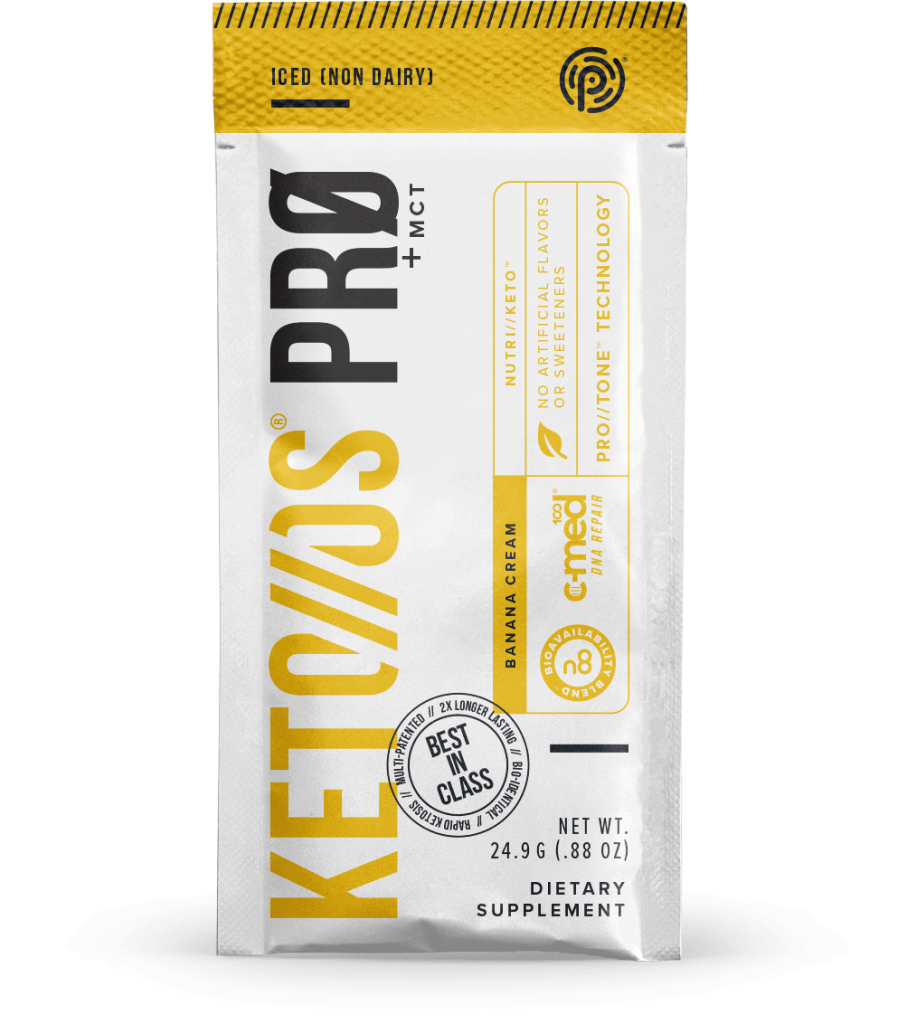 With only 3g net carbs per serving, it's great to use without risking your ketosis. It's available in dark chocolate and banana cream flavors.
Besides the ketone salts, it also contains N8 Bioavailability Blend, which is a proprietary ingredient mix from Pruvit. This blend contains pumpkin seed extract, MCT powder, and fermented L-Leucine.
It also contains C-Med 100®, another Pruvit proprietary blend. C-Med 100® contains cat's claw, a herb that has DNA protective properties. It also boosts amino acid production, aiding in muscle mass growth and recovery.
Pros
Promotes the growth of muscles while preventing the breakdown of muscle tissues.
Boosts your energy, enabling you to get through your workouts more easily and to exercise harder.
Accelerates fat burning in the body, aiding in weight loss.
Protects your DNA from damage, thereby preventing premature aging.
Cons
It's only available in two flavors, which does not cater to varied preferences. Because of this, you might not find one that suits your tastes.
---
Perfect Keto
Perfect Keto is a brand that provides products for people who are leading a ketogenic lifestyle. Their products are geared towards helping you maintain ketosis and avoid carbs and sugars as much as possible.
No artificial additives, fillers, or sugar alcohols are used in Perfect Keto products. Many customers like Perfect Keto because of the great-tasting snacks. Their exogenous ketones are not only palatable but also delicious, which is unlike many others in the market.
Perfect Keto has a more diverse offering of products compared to Pruvit, the manufacturer of Keto OS. First, let's look at the Perfect Keto exogenous ketone base, which is also a ketone salt supplement like Keto OS.
Exogenous Ketone Base
Are you looking for a ketone supplement that's going to keep your energy levels up without the use of any stimulants? The exogenous ketone base from Perfect Keto is the ideal product for you.
It contains beta-hydroxybutyrate salts bound to sodium, magnesium, and calcium mineral salts. This helps raise your blood ketone levels and replenish the electrolytes that you lose when you start a keto diet.
You can use this base to help you get through the first stages of keto-adaptation and avoid side effects such as brain fog and fatigue. Also, this is a perfect product for when you've been kicked out of ketosis.
If you love working out, taking a serving of this base before a workout can help keep your energy levels up and facilitate recovery afterward. During periods of intermittent fasting, use this supplement in the morning to keep your energy levels up until your next meal.
You can mix this base with water or your favorite beverage. It's available in a variety of flavors, including chocolate and salted caramel.
Instead of added sugars or sugar alcohols, Perfect Keto utilizes natural flavors, monk fruit, and stevia to add sweetness to their base. This has made the Perfect Keto ketone base popular among keto dieters for its pleasant taste without the use of any artificial sweeteners.
Pros
Provides clean energy for workouts without using stimulants. This allows you to exercise harder and for longer despite the lack of carbohydrates for fuel in the body. By increasing your blood ketone levels, this base provides your body with additional fuel.
It's easy to use as all you need to do is mix it in water, coffee, shake, or other beverage.
Available in various flavors, making it easy to find one that suits your preferences. Since Perfect Keto uses natural flavors and sweeteners such as stevia, the taste is much better than ketone salts that use artificial flavorings.
It can help you get through the keto-adaptation stage with minimal or no side effects at all. This is because the supplement provides ketones for energy at a time when your body has used up its glycogen stores and has not yet produced enough ketones for fuel.
When you need to get back into ketosis after failing to maintain your keto diet or when on a cyclical keto diet, this base can help you get back into a ketogenic state fast.
Cons
Most customers who have used the Perfect Keto exogenous ketone diet have good things to say about it, but there are negative reviews about the size of the container, which only offers 15 servings.
---
Besides the ketone base, Perfect Keto offers several other products that you can use to advance your keto lifestyle. If you're looking for a tasty snack to push you through the day, you'll love their keto bars or nut butter.
They also have keto cookies and instant coffee that allow you to enjoy your favorite treats without taking too many carbs.
Besides the food products, Perfect Keto also offers ketone testing strips. With these, you can take a urine test to see how high or low your blood ketone levels are.
Another Perfect Keto product that you should consider using is their Keto Collagen.
Keto Collagen
Collagen is the main protein in your body. It's responsible for the healthy growth and functioning of muscles, joints, skin, hair, nails, and the gut.
Perfect Keto provides this keto collagen that contains MCTs, mineral salts, and dietary fiber to boost your health as you keep up a ketogenic diet. It supports your muscle growth and restores electrolyte content in your body.
There's an unflavored option, and flavors that include vanilla, unsalted caramel, and chocolate. Add this to your coffee or shake to benefit from its health-boosting properties.
It has 2g total carbs, with 10 grams of grass-fed collagen and 5gms of MCTs in each serving.
Pros
Supports muscle growth and recovery after a workout.
Available in various natural flavors, with an unflavored option if you prefer.
Helps maintain your skin, keeping it elastic and youthful with more collagen production in the body.
The collagen used is derived from grass-fed cows, which means that it's of high quality.
Cons
Some people get stomach upset after using this product. However, it's advisable to use more water or beverages to dilute the collagen so that it can be gentle on your stomach.
---
Keto OS or Perfect Keto: Which One Should You Use?
Both Keto OS and Perfect Keto promise to make it easier for you to maintain ketosis. These are supplements that you can use to:
Boost your energy levels.
Increase your blood ketone levels.
Support weight loss by increasing fat burning.
Promote mental clarity and focus.
Curb hunger cravings, helping you stick to a low carb diet and avoid overeating.
By considering factors such as ingredients, flavor, and pricing, it can get easier to make your decision.
Ingredient-wise, Perfect Keto does not use any fillers. This is not the case with Keto OS, where ingredients such as xanthan gum are used.
Perfect Keto also offers more variety in terms of flavor compared to Keto OS. While both brands strive to provide delicious ketone salts that are easily palatable, there are lots of complaints about taste by people who use Keto OS.
When it comes to pricing, Perfect Keto is more affordable than Keto OS. Taking all these factors into consideration, you can decide which is the best one for you.
You can try both of them to see which one is better at providing keto benefits. Note that each individual is different, so your experience may not be the same as that of other users.
Therefore, it's better to buy the product yourself and see how you react to it. If you find that it tastes great, boosts your energy, keeps you in ketosis, and stops the hunger cravings, then it's worth the buy.
Conclusion
Keto OS and Perfect Keto are reputable brands that you can trust for genuine and high-quality keto-friendly products. Since they've been in the market for several years, they have been used by thousands of customers.
There's, therefore, a lot of customer feedback that you can check to get an idea on how they work.
Make sure to buy the one that'll serve your needs without any side effects that could complicate your keto lifestyle further. And, if one doesn't work, you can always switch to the other.